Getting Engaged
10+ unique Christmas engagement ideas to help you plan your very own fun Christmas proposal! Everything from free & easy ideas to complex & memorable ones… plus videos so you can "see" how it's done!
The best ways to propose!… Use these one-of-a-kind marriage proposal ideas as a guide to help you plan — and execute — the best wedding proposal ever.
---
Planning Your Wedding
If you're anything like me, then you had to save money for awhile just to be able to afford all of the extra little things that you wanted for your wedding day. So… why not help out a fellow bride by recycling some of your wedding things? Depending on the used wedding items that you sell, you could actually make a good deal of money while helping fellow brides to save money! Here's how to do it…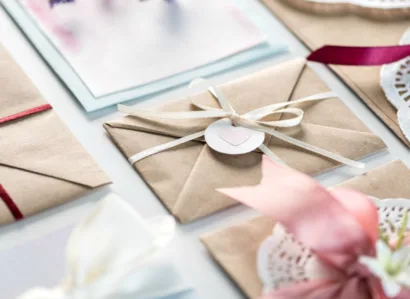 One way to save money on your wedding invitations is to make them yourself. This can be a very fun project — especially if you're creative. Today, it's easier than ever to make your own wedding invitations. Here are some ideas to get you started…
Here's how to elope. Everything you need to know about elopement wedding dresses, the best places to elope, and elopement packages that will take care of all the details of your surprise wedding & make it the destination wedding of your dreams.
---
For Wedding Guests Only
---
Fun Wedding Stuff
These funny wedding videos show lots of fun ways that you can incorporate social networking sites like Facebook or Twitter into your own wedding.
---