This post may contain affiliate links. If you buy thru these links, we may earn a commission at no additional cost to you.
---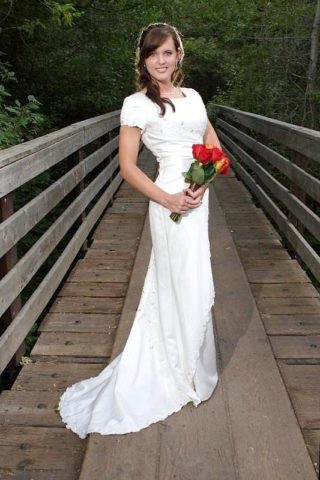 If the idea of shopping for just any wedding dress doesn't excite you, then you may want to consider something entirely new and different: online wedding dress design!
Designing your own wedding dress can be a really fun idea. And if you're a seamstress, then you could design and create your own wedding dress yourself from scratch.
Thanks to computers and the Internet, there are lots of ways to get ideas for making your own wedding dress.
Recently, free online wedding dress design websites and apps have started popping up — and most of them are really cool!
Here are my favorites…
I really like this one because it has several different hairstyles, skin tones, jewelry, and dress types. You can even choose different backgrounds and pick an accent color. The only thing this online wedding dress design site lacks is the ability to change the body type of the model. (Not all of us are model thin.)
Instead of trying on a ton of dresses to get an idea of what looks good on you, Zeekit allows you to measure and try on wedding dresses virtually. First, you upload an image to the Zeekit app (or select a model with a similar body structure and skin tone as you). Then, within seconds, your selected dress appears. This makes it easy for you to visualize yourself in different dresses. NOTE: This is the same system that Amazon and Walmart use for their virtual fitting rooms!
Use this app to see what you look like in different wedding dresses. First, upload a photo of yourself, then use the bridal face changer and editor to change the styles.
This one is a little cartoonish, but it's helpful for getting a general idea of what you like and don't like.
Finally, an online wedding dress design site that allows you to change the body type! This is a great option, since we're not all model thin and perfectly shaped. See what's best for you if you have an hourglass shape, or if you're a triangle, inverted triangle, or rectangle. Get started by taking the David's Bridal "dress quiz" first.
Design your own dress, in your own style, for your own body, without sewing a stitch!
I enjoy helping women find clever ways to plan their weddings on a budget. My goal is to help you stay creative and save money at the same time! When I'm not writing, I enjoy spending time with my husband, reading, and creating 3D artwork & Native American beadwork.