Wedding flowers can be expensive — especially when they're arranged for a floral wedding bouquet.
If you want to save some money, or just do something different for your wedding bouquet, consider these fun options that don't involve real flowers.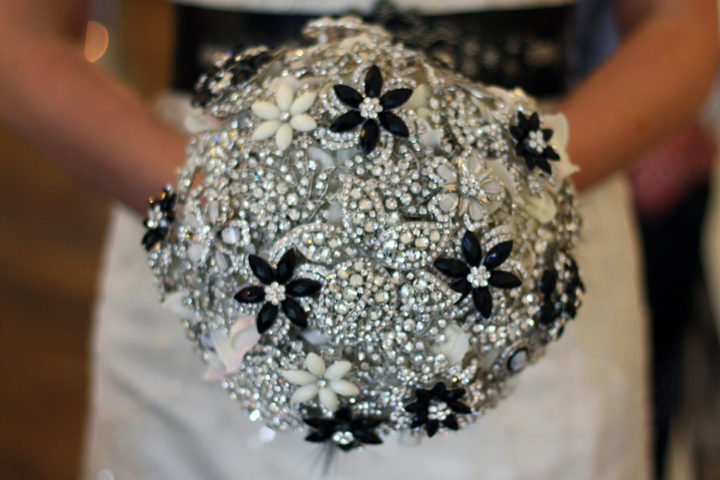 Choosing Your Wedding Bouquet
The idea is to match the colors and items used in your bridal bouquet with the colors and items used elsewhere in your wedding — such as your wedding cake, your wedding theme, and your wedding colors.
Some examples:
beachy
rustic
playful
carnival
10 Unique Wedding Bouquet Ideas
The following items can be used to make a fun wedding bouquet that everyone will be talking about:
#1 – Lollipops – for a super fun wedding bouquet, bunch together a specific type of lollipop, a variety of different ones, or a fun array of lollipops in your wedding colors.

#2 – Buttons – strung together (on wires or string) or sewn onto layers of fabric patches in your wedding colors, buttons are a fun accent piece due to the variety of shapes and colors.

#3 – Shells – group a bunch of different-sized seashells together into a beachy bridal bouquet.
#4 – Butterflies – colorful faux butterflies on wire stems look whimsical, yet realistic, when bunched together.
#5 – Fruit & Vegetables – colorful fruit like grapes, cranberries, and blueberries are easy to group (or string) together in a bouquet. Large veggies like cabbage and dainty herbs make great accents for edible wedding bouquets.
#6 – Brooches– group together fashion jewelry, brooches, and dainty antique pieces and hold them all together with a string of pearls.
#7 – Dried flowers – it's the next best thing to using real flowers, and dried flowers can be dyed to match your wedding colors.
#8 – Lace – bunched up lace looks great with an antique wedding dress or vintage wedding theme.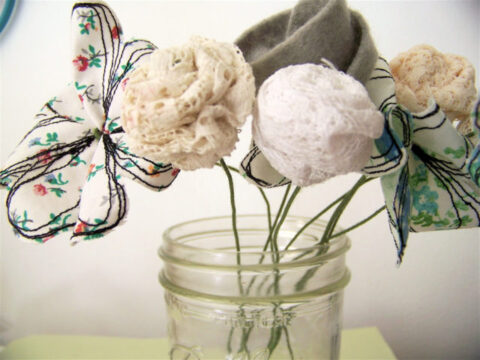 #9 – Fabric – bouquet flowers can be crocheted, or knitted, or sewn from a variety of different fabrics.
#10 – Paper – find pages from a book, maps, sheet music, etc. that mean something to the couple and roll those pages into flower-shaped buds. Wah-laa… a bouquet of paper roses!
More Unique Wedding Bouquets
...