This post may contain affiliate links. If you buy thru these links, we may earn a commission at no additional cost to you.
---
There's a fun new trend with weddings these days. Having a "green" wedding is a socially responsible way to enjoy your day and respect the environment.
I suggest going with a Green, Eco-friendly celebration. This option is becoming increasingly common among couples interested in decreasing their impact on the environment, without sacrificing style or elegance. The average cost of a wedding these days can run as high as $20,000, so go ahead and embrace the economic, social and environmental benefits that can make the big day easy and affordable. Your guests will be treated to a unique and meaningful experience and you will have the opportunity to plan more of a DIY-type affair. Source
A green wedding is one where the couple organizes their wedding using eco-friendly principles — like choosing a wedding dress the bride can wear for more than this one occasion, for example.
So if you like the idea of not being wasteful and having a wedding that is friendly to your pocketbook, your family & friends, and the environment, then a green wedding is the perfect wedding for you!
Here are some ideas to help you plan your green wedding…
#1 – Eco Friendly Wedding Invitations
Instead of having wedding invitations printed, send them out via email. You can design an e-card to send as an attachment, or find some e-mail stationary that you like online (or create your own) to use when sending out your wedding invitations by email.
Most online wedding invitation sites have built-in online RSVP tools for your wedding as well. That way, you can send invitations and track the RSVPs all in one place! Browse the online wedding invitations at sites like EventBrite, Smilebox, RSVPify, Greenvelope.
You could also create a free wedding website to avoid having to compile and print separate invitations for each wedding guest. Your wedding website includes all the details of your wedding — date, time, place, driving directions, nearby hotels, a list of other things to do in the area… you get the idea. The best part is if anything changes, you just update your website with the new info and all of your wedding guests will know about it!
If you must have printed invitations for your wedding, then make sure they're printed on recycled paper and use a reply postcard (instead of a card with envelope). Having no inner envelope will save on paper and money. Here are 5 types of eco friendly wedding invitations. My favorite is using paper embedded with seeds — so your wedding guests can plant the invitations and then enjoy the flowers that grow from them!
The environmental group Conserveatree calculates that roughly 24 trees are needed to produce one ton of virgin printer quality paper. Also, bleaching the paper uses the gas form of chlorine, producing unwanted toxic dioxins. Even a small part of a big event can amount to tons of wasted paper and more pollution every year. This is just one of the reasons that a new trend of environmentally friendly event planning has begun to crop up all over the U.S.  Source
Must read: Do Online Wedding Invitations Leave Some People Out?
#2 – Green Wedding Dress & Bridesmaid Dresses
Choose a wedding dress and bridesmaid dresses that can be worn for other occasions, long after the wedding has passed.
Also, look for a wedding dress and bridesmaid dresses made from natural and eco friendly materials, such as hemp, silk, and organic cotton. In addition to being eco-friendly, these will also be easier to care for as they won't require you to dryclean them and, in most cases, they'll be beautiful without being overly fancy — so they can be worn again and again.
Another good idea for an eco-friendly wedding dress is to wear a dress that someone else got married in. Maybe it's a wedding dress that your mother, aunt, or sister has passed down to you, a friend's wedding dress, or even a vintage wedding dress from a thrift store that you're able to give a second life.
Reduce, reuse, recycle definitely applies to wedding gowns as well!
#3 – Eco Friendly Wedding Rings
Buying wedding rings brand new is expensive, and you don't know where those diamonds came from. (Many diamonds that are sold commercially come from areas of the world where there are conflicts to get them between mining companies and the aboriginal populations.) If you must, choose eco friendly jewelers.
Instead of new diamond rings, consider simulated diamonds (that's what I wore for the first several years after we got married), synthetic gemstones, simple metal wedding bands, vintage wedding rings passed down from family members, or pre-owned wedding rings that have been enjoyed by others.
Many are tattooing "rings" onto their fingers in lieu of actual metal rings these days. How fun is that?! There are plenty of ways to get creative with wedding ring tattoos.
Finally, many jewelry makers are melting old metal to make unique wedding bands. If you're good with making jewelry, perhaps you can make your own wedding rings from recycled jewelry!
If you're set on a diamond ring, go vintage. Buy your rings pre-worn and you won't be participating in a corrupt industry. If the look of the diamond is important to you but the industry turns you off, consider imitation diamonds … If faking it isn't your bag, consider stepping outside the box and selecting a different gemstone such as your birthstone. Source
Must read: Are Your Rings Earth-Friendly And Conflict-Free?
#4 – Environmentally Friendly Wedding Confetti
Encourage your wedding guests to use eco friendly confetti, instead of using traditional confetti ideas like these, these, these, or these.
Here are some great ideas for confetti that's biodegradable, water-soluble, and won't hurt birds and other animals:
Each of the above forms of eco friendly confetti can be placed in tiny baskets, little muslin bags, glassine treat bags, or paper cones made from aged paper, seed paper, or decorative paper — anything that makes it easy for your wedding guests to grab… and throw!
Other Eco Friendly Ideas For Your Green Wedding
#5 – Location: Have your wedding ceremony and reception in the same location. This eliminates all the travel that your wedding guests would have to do — just to get from one location to the next. Bonus tip: consider an outdoor location — like a farm, meadow, or beach. You'll be one with nature, and you'll use much less electricity and water. At a farm location, you're also supporting the local farming community, and since the food is grown on site, you'll have a fresh, local, seasonal meal for your wedding.
#6 – Flowers: Instead of buying expensive bouquets, choose local, seasonal and "simple" flower arrangements. Also, reuse the flowers from your wedding ceremony at the reception as well. Finally, when the day is done, let your wedding guests know what they can help themselves to. If any plants or flowers are left over, take them to a local nursing home or hospital — you'll make someone's day!
#7 – Decorations: Whatever you use as decorations for the wedding ceremony, use them again as decor at your reception. You may need to assign a few people to physically carry them from one location to the other, but it's worth it. Soy candles are a great organic option for your ceremony and reception.
#8 – Food: Ask your caterer to serve organic and/or vegetarian entrees. (If you have your wedding on a farm, chances are all the food will be locally grown and organic anyway.) A meal without meat isn't so bad. Or try organic meat instead. Even if you're a meat-eater like me, changing it up for one day feels refreshing and makes a statement about your commitment to support the local farming community and the planet. Here are some eco-friendly menu and beverage ideas.
#9 – Dishes & Utensils: Instead of using disposable dishes, glassware, and utensils at your wedding reception, rent or buy durable dishes and silverware. While it may mean that someone has to wash dishes, it will reduce the amount of single-use non-biodegradable plastic going into the landfill from your wedding. You should also choose cloth napkins that can be washed — instead of paper napkins.
#10 – Centerpieces – Skip the expensive flower arrangements that are typically used as wedding centerpieces. Instead, replace them with live plants (or even trees) that your wedding guests can take home with them. Now that's how you recycle at your own wedding! Bonus tip: Mini stalks of lucky bamboo are always a favorite party favor. Bamboo is one of the most sustainable materials on Earth — it grows up to 2 feet a day, so it takes only 3 to 7 years to mature (as opposed to 120 years for an oak tree).
#11 – Favors – Instead of buying trinkets for your wedding guests, announce that you're making a donation in the name of each of your wedding guests to a specific charity. They'll be proud to have a small hand in helping a cause that's important to you, and you'll save time and money buying and placing favors at everyone's seat. Remember, if you're following the centerpiece advice above, then your guests will be able to take live plants home with them!
#12 – Programs – Inside or on the back of your wedding program, include a list of all the ways you've been considerate of the Earth while planning your wedding. You're a good role model for your wedding guests. Letting them know how important the environment is to you could spark some new eco-friendly habits among your guests. Bonus tip: Make your wedding programs also serve as handheld fans — great for an outdoor wedding.
#13 – Gifts – No longer do you have to limit yourself to registering at well-known department stores. These days, you can register for absolutely anything from any store on the planet — even if  that store doesn't have a gift registry! Two great examples for managing all of your gift registries in one place are: MyRegistry and Amazon's Universal Wish List. The idea is to make it as easy as possible for your guests to find eco-friendly wedding gifts. Or, ask your wedding guests to make a charitable donation instead of buying gifts.
How Eco Friendly Is Your Wedding?
Wondering how much you're impacting the environment with your wedding planning so far? Use this Wedding Carbon Footprint Calculator:
A green wedding is a fun way to celebrate your special day while having as little impact on the environment as possible.
The idea is to borrow more — buy less. The more you can reuse and recycle things for your own wedding, the more money you're saving and the more your helping the planet.
You'll take pride in the fact that you're saving a lot of the environmental resources that are typically wasted when having "traditional" wedding!
More Green Wedding Ideas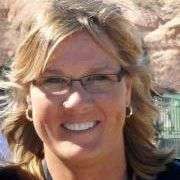 I planned my own Destination Wedding and everything went off without a hitch — we got married barefoot on the beach in the Bahamas! I like to help brides-to-be find unique ways to do things that will ultimately save them time & money on their wedding. I write about "outside the box" wedding ideas that most people wouldn't think of! When I'm not exploring the latest wedding trends, you can find me at the corner of Good News & Fun Times as publisher of The Fun Times Guide (32 fun & helpful websites).