This post may contain affiliate links. If you buy thru these links, we may earn a commission at no additional cost to you.
---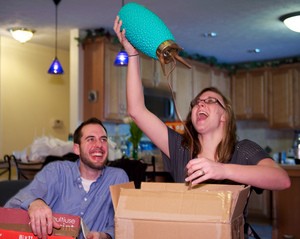 Finding the perfect gift for the bride and groom can sometimes be tricky.
Perhaps you don't know them very well. Or maybe you just want to get them something really unique that's not already on their wedding gift registry.
That's usually my goal. I like to think outside the box and try to give the couple something they've never seen (or maybe even heard of!) before.
Following are some really unique (and fun!) bride & groom gifts that won't break the bank…
Personalized Wedding Canvas Art
Give a classy piece of art to the new couple.
Written on this professional canvas are the words from I Corinthians, Verse 13 — Love Is Patient.
The canvas is treated with professional grade polymer sealant to protect against UV and environmental damage, including moisture.
You can get it personalized with up to 3 lines. (Instead of "Our First Anniversary" you could choose "Our Wedding Day," for example.)
Available in 3 different sizes.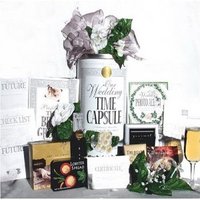 Wedding Time Capsule Gift Basket
Not only will the newlyweds have everything they need to enjoy a nice picnic together, but they will also be able to remember their special moment in time several years from now.
This 21-piece wedding gift basket & time capsule includes:
premium lobster pate
decadent French truffles
handmade almond toffee
brie cheese spread
caviar crackers
apple cider
a personalized gift message from you
After their picnic, the couple is encouraged to fill their wedding time capsule with memorabilia from that day, or from their first year together, or from their actual wedding day.
Then, they simply seal and bury the capsule for several years.
Finally, on a special day in the future (determined by the couple), they will dig up their time capsule and relive their memories together again!
Personalized Collage Photo Frame
This is a fun, yet classy gift for the new couple.
You can choose any word(s) you like for the customized photo mat, then place your favorite photos behind it to create your very own personalized collage photo frame!
Some ideas for the personalized photo mat:
the couple's last name
a fun nickname
their wedding date
"Our Wedding"
their first names
…you get the idea.
Personalized Wedding Certificate Holder With Stand
This bride and groom gift is a great way for the couple to store and display their marriage certificate.
The certificate holder comes with a matching stand which can be personalized with the couple's name and wedding date.
You can choose from 6 different font styles too — to match their personality (and home decor).
Personalized Wedding Photo Puzzle & Tin
This is such a fun bride and groom gift!
Not only will the new couple be able to view one of their fun wedding photos upon completion, but they can also have fun while putting the pieces of the puzzle together.
This personalized wedding photo puzzle includes 252 pieces!
It also comes with a matching gift tin to keep all the puzzle pieces together.
You can choose between a horizontal or vertical photo puzzle.
Personalized Photo Marble Plaque
Here's a unique idea… take the couple's wedding photo and turn it into a marble plaque!
It's more unique than your typical wedding photo frame because it's thicker, and dimensional. A photo of the couple will be pressed to a lightweight marble tile to give it a thick, natural look.
The bride and groom's names can be added to the plaque for a special touch.
Add the black easel for a classy display on a desk, dresser, or table.
Here's a fun twist for a bride and groom gift idea (…just be sure they open it and have it on display at their wedding ceremony).
It's a personalized jar that's filled with wedding wishes for the new couple.
This keepsake jar comes with 50 cards that read "Wishes for the Bride and Groom" on the front.
The back of the cards are blank for the wedding guests to sign and leave their personalized wishes on!
The jar itself can also be personalized with the couple's name and wedding date.
Personalized Canvas Art For A Beach Wedding
This one's perfect for the couple who had a beach-themed wedding!
Personalize it with the couple's first names — which appear within a sand heart on the beach.
You can also include the year of their wedding for a memorable touch.
This unique form of wall art is professionally produced on actual artist canvas with rich archival inks to intensify the details and beauty of the artwork.
It's thick, chunky, dimensional, and will add some fun and whimsy to the couple's walls. It screams "Our Paradise Island!"
A wedding keepsake memory box is a great way for the new couple to store their favorite things from their engagement, their wedding, and their honeymoon.
They can keep everything together in one big box!
The memory box is made from white fiber board that is acid-free, so none of the items inside will fade, tarnish, or become discolored.
You can personalize it with their names and wedding date stamped onto the lid.
What better gift for a couple of love birds than a couple of lovebirds?!
If the bride and groom are so cute together that people are always commenting about the darling way they act when they're together, then this is the gift for them.
It's perfect for a couple that constantly oogles over each other.
When propped together, these 2 separate lovebirds — each carved from maple wood — interlock together to support a tiny red heart. It's a token of the compromise and compassion behind all great loves.
More Bride And Groom Gift Ideas & Tips

What I Wish I'd Registered For… – Stylish dinnerware, A grill, Artwork, Oven-to-table bakeware, Wine glasses, Cordless drill, Decorative pillows, Photo albums, Home decor, Christmas decorations, Fine china, A mandoline food slicer

Funny Groom Gifts – Tshirts, Shoes, Greeting Cards, Pins, Ties, Hats, Mugs, Stickers, Keychains, Mousepads, Aprons and more
Useful, Practical Items Make The Best Wedding Gifts – Package together several small items purchased on sale; Personalized stationery and luggage tags; Monogram something you purchased on clearance (like holiday items); Using your home computer print a wedding poem & frame it; Take an ad out in the newspaper welcoming the bride (or groom) to the family; Pass down a family heirloom
16 Brides' Favorite Gifts – Creative re-use of the wedding invitation, Original artwork, A composter, Tool kit, Museum membership, Handmade handkerchief, Anything monogrammed, Wine cooler, Special gift certificate, Embosser, Stainless steel flatware, Restaurant gift certificates, Food processor, A check
Things The Couple Will Need For Their New Home – Keys & locks for the new house; Lawnmower; Garden supplies; Tools & repair items; Outdoor entertaining equipment; Snow removal supplies; Window coverings; Appliances; Towels, linens and rugs; A pet
10 Gifts For The Bride – Small digital camera, Spa gift certificate, Book that will make her laugh, Monogrammed goodies, Things that will take her back to her youth, Honeymoon gifts, Lingerie, Holiday decorations, Engagement memories, History of her fiance's family
From A Bride: The Best Wedding Gifts I Never Got – Luggage, A beautiful bowl, Tool kit, Wedding print, Bedding, Flower of the Month Club, Picnic basket, Cuisinart, Cooking classes, Honeymoon goodies
Groom Gag Gift Ideas – Ball and chain, Marriage survival kit, T-shirt, Tool belt
Inexpensive Gift Ideas That Make Them Feel Like A Million Bucks – Make something yourself based on your own skills & talents; Put items together for a themed gift basket; Give your own time and services
How To Avoid Overspending On Wedding Gifts – Set a budget, Get creative, Consider a group gift, Stick to the wedding registry, Offer your services, Consider re-gifting
Bridal Shower Gifts: 6 Tips – Etiquette, Shopping strategies, Traditions, Superstitions, Packaging, Faux pax alert
Cheap Wedding Gift Ideas – Bundle together a bunch of kitchen gadgets grouped together like: serving spoons, or a few gourmet ingredients, mixing bowls, kitchen towels and slotted spoons; Frame their wedding invitation; A bottle of wine or liquor; Ingredients for a romantic dinner; Towels; A beach blanket, sunscreen, and a frisbee packaged in a low-cost bag; DVD of a romantic comedy, microwave popcorn, a blanket to cuddle up and/or a big bowl to serve the popcorn; Magazine subscriptions
Bridal Shower & Wedding Gift Giving Guide – What's expected? What's required?
Gifts For Weddings & Wedding Showers – Coffee table book; Bread machine; A quilt; Wedding commemorative plate; A well-stocked picnic basket; Serving platter, Dinner for 2 at a nice restaurant; Wine glasses; Lingerie; Stress reducers; Games; Outdoorsy/camping equipment; Tools; Gifts for the home that can be used when entertaining; Cookbooks; Aromatherapy bath items
Nice Wedding Gifts That Are Really Unique – You may have to pay a little more for wedding gifts that are truly unique, but these are definitely worth it.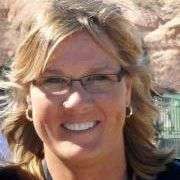 I planned my own Destination Wedding and everything went off without a hitch — we got married barefoot on the beach in the Bahamas! I like to help brides-to-be find unique ways to do things that will ultimately save them time & money on their wedding. I write about "outside the box" wedding ideas that most people wouldn't think of! When I'm not exploring the latest wedding trends, you can find me at the corner of Good News & Fun Times as publisher of The Fun Times Guide (32 fun & helpful websites).