This post may contain affiliate links. If you buy thru these links, we may earn a commission at no additional cost to you.
---
It's one of the most challenging times for any bridesmaid — that moment when she first sees the dress the bride has chosen for her to wear at the wedding.
Very few bridesmaids make it through this moment unscathed, and it's no surprise why. Bridesmaid dresses are notoriously ugly, expensive, unflattering, and impossible to wear again.
While it is your big day, as the bride, and you should have your way in many things, it's important to remember when choosing your bridesmaid dresses dresses that these women are your friends.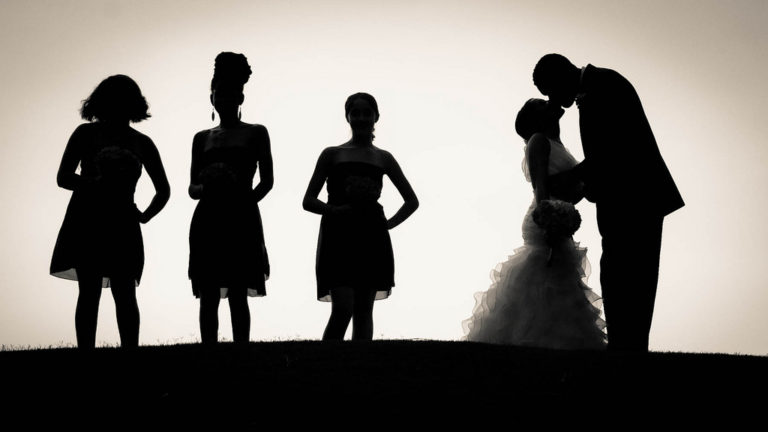 So, no matter how adorable you think the $600 hoop skirt dresses with matching parasols are, try to keep these things in mind for your bridemaids' benefit:
Find Cheap Bridesmaid Dresses
Let's be honest, weddings are not just expensive for the bride and groom. Your bridesmaids will also be shelling out money for shoes, hair, makeup, bachelorette parties, bridal shower gifts, and wedding gifts.
Throwing an expensive dress into the mix will strain most bridesmaids' budgets.
It's important to have realistic expectations about what your bridesmaids can afford. Because if someone has a limited budget, then having to buy an expensive dress may force them to bow out of other pre-wedding traditions — like your bachelorette party.
Some brides are happy to help out bridesmaids who cannot afford their dresses, but if you're already on a tight budget yourself that may not be feasible.
So, choose a dress that you know is comfortably within the price range of all of your bridesmaids for a happier wedding day — for all involved.
You can find lots of cheap bridesmaid dresses online:
Consider Problem Areas and Modesty
Most women have a few places on their body that they'd rather keep hidden. And let's admit it, we're all self-conscious about our problem areas.
Whether your bridesmaids think their thighs are too wide, their shoulders are too boney, or they're uncomfortable showing a certain amount of cleavage — we all like to wear clothing that we think is comfortable and flattering on us, and your bridesmaids are no exception.
While you may think that your bridesmaids are all knock-outs, try to think about what they're personally comfortable showing and what they'd like to conceal when choosing your bridesmaid dresses.
This is not easy to do when you have bridesmaids with many different body types, but there are a few ways that you can help the situation:
Thicker fabrics conceal more flaws and show less than thin or clingy fabrics.
Shawls or shrugs can be added to strapless or low-cut dresses for bridesmaids who don't like to show their arms or shoulders.
Modesty panels can also be added to dresses that are a little more revealing in the cleavage area.
Keep this in mind: as much as you may like to see perfectly matching bridesmaids, it's much better to have them genuinely smiling in your wedding photos.
Make Sure The Dress Is Re-wearable
While not an essential component of choosing your bridesmaid dresses, many women who spend money on a dress would like to be able to wear it again at some point in their lives.
Simple cocktail dresses in flattering colors are the best choice if you want your bridesmaids to be able to re-wear their wedding wardrobe.
If your bridesmaids happen to like bold statements and outrageous colors, then you'll have a bit more leeway with your choices — but most women would be hesitant to wear a bright pink dress to a work Christmas party.
For the more traditional ladies, consider pretty soft hues and classics — like black and navy, which are always in style.
Let Your Bridesmaids Decide
A new wedding trend is emerging — no doubt spurred on by former bridesmaids with a closet full of tulle. It's letting bridesmaids pick their own gowns!
In the most extreme cases, the bride simply tells her bridesmaids to find a pretty dress that they like and it will suffice for the wedding. This would be a mix & match wedding style.
But most brides still prefer some matching in their photos, so most will ask to have some input on the dresses that are chosen.
If you would like to experiment with different dresses — without going all out and having a mix & match wedding — you have a few options:
#1 – Many bridesmaid lines offer numerous styles of dresses in the same color or fabric. You could choose satin (for example) for your fabric and plum (as an example) for the color, and then let the bridesmaids choose which style of dress they feel they look best in. If you'd like to see uniformity in terms of hemlines, then you can require a certain skirt length as well.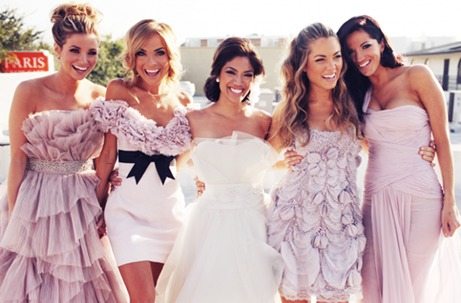 #2 – Also popular now is the ombre trend — where bridesmaids wear slightly different shades of the same color. This can be done in identical dresses, but it looks best when paired with different styles of dresses. To get this look easily, choose a line of dresses with multiple shades. Tell one bridesmaid that she can pick any dress in baby blue, the next bridesmaid can choose one in cerulean blue, and the maid of honor should choose a dress that's sapphire colored. You can also give these instructions to your bridesmaids without specifying a line of dresses, but be prepared for frantic last-minute photo texts asking if a dress is baby blue or closer to powder blue.
#3 – Another popular trend is coordinating the bridesmaids' dresses by type of color. For example, a jewel-toned wedding may have bridesmaids in sapphire, emerald, and ruby dresses. A pastel wedding could make use of light shades of blue, pink, green, and cream. For this type of wedding, the bridesmaid dresses are usually similar in length and style or feel. For example, jewel tones would look beautiful on shorter, structured gowns while flowing, soft dresses complement delicate pastels best.
Give And Take
Your wedding is one of the biggest and most exciting days of your life, and you may spend months (if not years) agonizing over every little detail so the day is perfect.
It may seem like a lot to ask for you not to pick the corset waist, bias cut, designer bridesmaid gown that you've been dreaming about since you saw it in a magazine.
But remember… before you walk down the aisle, your bridesmaids will be leading the way and guiding you on to your future happiness with love and support in their hearts. Show them some support in return — because it's important that they are happy and comfortable on your wedding day as well.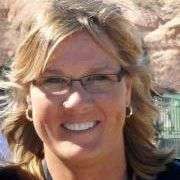 I planned my own Destination Wedding and everything went off without a hitch — we got married barefoot on the beach in the Bahamas! I like to help brides-to-be find unique ways to do things that will ultimately save them time & money on their wedding. I write about "outside the box" wedding ideas that most people wouldn't think of! When I'm not exploring the latest wedding trends, you can find me at the corner of Good News & Fun Times as publisher of The Fun Times Guide (32 fun & helpful websites).