This post may contain affiliate links. If you buy thru these links, we may earn a commission at no additional cost to you.
---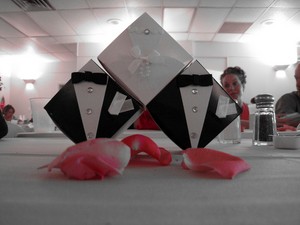 Wedding decorations can be one of the most expensive parts of your wedding.
That is, unless you make them yourself!
Some of the most beautiful wedding decorations I've ever seen were made by brides and bridesmaids.
Even if you aren't a particularly crafty person, you can still make your wedding decorations yourself using these simple tips…
 How To Make Wedding Garland
This beautiful garland can be used again and again for various occasions, including weddings, birthdays, or even baby showers, so it's multi-purpose and a great green idea for your wedding!
Pick some fabric scraps in the appropriate colors and patterns (it's best to pick different patterns) to complement your wedding colors and theme.
Then, cut the fabric into fun shapes, and sew the edges together.
Finally, sew all the shapes together into a long garland strand.
Other ideas for DIY wedding garland:
Making a Flower Garland from Scratch
 How To Make Your Own Wedding Flowers
Instead of ordering expensive flowers from a florist, make your own paper tissue flowers to put in colorful vases. You can find very pretty and colorful vases at most dollar stores. (Hint: glass vases are more ecofriendly than plastic ones since they can be washed and used over and over.) For each flower, all you need are 4 sheets of tissue paper in 2 different colors and some green pipe cleaners. You can make whole bouquets to be put in vases rather quickly this way:
Put all 4 pieces of tissue paper together.
Then, fold the tissue papers in an accordion fold.
Next, take a green pipe cleaner and wrap one end several times tightly around the middle of the accordion-folded tissue paper.
Finally, carefully begin to pull each layer up to create a single tissue paper flower.
Other ideas for DIY wedding flowers:
How to create Wedding Flowers (Bouquets,Buttonholes,display)
 How To Make Wedding Napkin Rings
You can make your own wedding napkin rings with no sewing required. All you need are some cardboard rolls from paper towels or toilet paper, cloth in your wedding colors, scissors and a glue gun. Oh, and some cloth napkins.
Cut the cardboard rolls into 3/4″ rounds.
Then, cut your cloth into lengths and widths that will cover the rounds.
Wrap the cloth around the rounds, a little bit at a time, gluing the cloth to the round as you go.
Be sure to do the gluing ins
ide the round. Also, let it dry for a bit after each time you glue part of the cloth to the round.
Other ideas for DIY wedding napkins & napkin rings:
 How To Make Fruit Centerpieces & Accents
Small baskets of fruit that match your wedding colors make an entire centerpiece or just accent pieces. Just about any fruit basket will work and you can put a piece of cloth beneath the fruit so it is just peeking out from underneath. These work great to accent other wedding decorations that you already have.
Find a basket that you would like to use (the size and style are completely up to you), and get enough to place one at each table. Line each basket with a cloth napkin or other piece of fabric in your wedding colors, and add fresh fruit.
Or, fill small glass jars with water and a couple of lemons or limes, along with a floating candle. Tie a ribbon in your wedding colors to the edge of the jar.
You could also make tiny individual baskets filled with fruit — one for each wedding guest. And write the name of one wedding guest on each one. That way, they'll know where they're supposed to sit.
Other ideas for DIY wedding centerpieces & accents:
Wedding Centerpieces : How to Make Budget Wedding Centerpieces
 How To Make Wall Decor That Doesn't Require Nails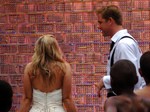 If you're having your wedding in a place where you can't use nails on the walls, here's an idea:
Purchase some wood garden trellis pieces from your local gardening store — the taller the better (ideally, you'll be able to find 6-foot sections).
Simply lean the trellis up against the wall.
Weave fresh or artificial flowers and any other decorative accents you want through the holes. You can also spray paint them in your wedding colors if you want to.
Other ideas for DIY hanging wall decor:
DIY How to make simple 3D heart wall decoration in 15min. (Wedding, Valenitne's)
 How To Make Wedding Placemats
One really simple idea that you can have a lot of fun with is to simply use 12×12″ sheets of scrapbook paper as individual placemats:
Buy 12×12″ scrapbook paper in coordinating colors and designs. Or, you may want all of the placemats to be of the same color and design.
Place one for each seat at your wedding reception.
Finally, Make a pop-up nameplate so each guest knows where to sit!
Other ideas for DIY wedding placemats:
DIY Homemade Holiday Placemats, How-To : Threadbanger
 How To Make Wedding Table Runners
There are lots of fun ways to make table runners for your wedding reception. My favorite one is to use wedding wrapping paper:
Buy enough rolls of wrapping paper to cover the number of tables at your reception. They could be all matching, or different patterns that complement one another and match your wedding theme.
Using a rotary cutter, you can cut long straight lines through paper — including wrapping paper and fabric!
Make sure to leave 18 inches on each end of the table runner, so it will drape over the table's edges.
Other ideas for DIY wedding table runners:
Wedding Linens Great Tips!!
Using DIY instructions like the ones found here, it should be relatively easy to make all (or most) of your own wedding decorations yourself!
In addition to saving a bunch of money, another advantage to making the wedding decorations yourself is that when the wedding is over, you can: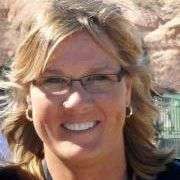 I planned my own Destination Wedding and everything went off without a hitch — we got married barefoot on the beach in the Bahamas! I like to help brides-to-be find unique ways to do things that will ultimately save them time & money on their wedding. I write about "outside the box" wedding ideas that most people wouldn't think of! When I'm not exploring the latest wedding trends, you can find me at the corner of Good News & Fun Times as publisher of The Fun Times Guide (32 fun & helpful websites).