This post may contain affiliate links. If you buy thru these links, we may earn a commission at no additional cost to you.
---
A beach theme wedding is quite popular with many brides these days.  It definitely has its own unique charm!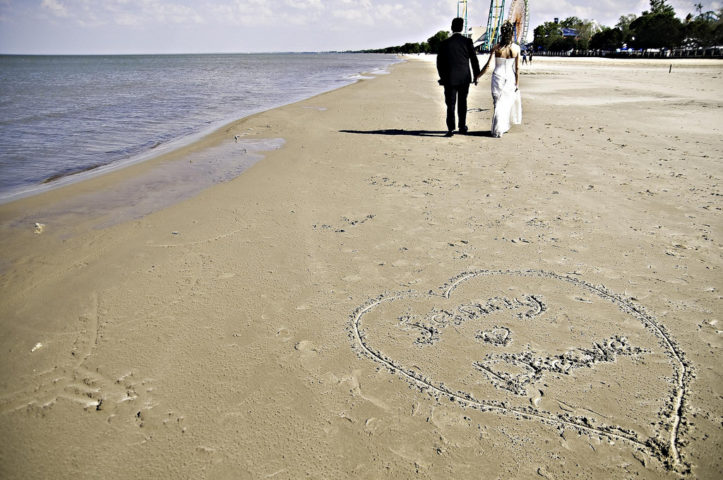 16% of the nation's weddings are destination affairs — 4 times as many as a decade ago. The Caribbean (particularly Jamaica and the Virgin Islands and Hawaii and Mexico are hot spots), but many couples choose Europe or the South Pacific. Others stay closer to home: Nantucket, Santa Fe, Aspen, and the Napa Valley are popular. Source
However, beach theme weddings also have their own set of problems.
If you're considering a beach wedding, then it's important to understand the pros and cons of a beach theme wedding before you start planning your own.
First, to whet your appetite, here's what a beach wedding is like…
Beach Wedding - Cocoa Beach - 7/24/11
Pros Of A Beach Theme Wedding
#1 – A beach wedding can be less expensive than other weddings.
Instead of spending $20,000 to $30,000, you can have a wonderful beach theme wedding for $6,000 or less.
Couples who have a destination wedding spend 41% less than other brides and grooms. Source
#2 – The beach provides an intimate setting that is uniquely yours.
Plus, beach weddings are typically smaller and much more intimate in terms of the number of guests as well.
About 60% of invited guests will attend a destination wedding; 85% say "yes" to a hometown wedding. Source
#3 – You can get away with wearing much more comfortable attire.
The traditional flowing gown and stiff suits are certainly still appropriate, but much less common in beach weddings. It's easier to wear what you (and your guests) will be the most comfortable in. And the best part: you can go barefoot!
#4 – Everyone in attendance can participate in some way — even if it's just kicking off their shoes and feeling the sand between their toes.
In fact, your wedding can become a "vacation" for those who can get away for a few days — especially if you do a wedding cruise or have your beach wedding at a location where everyone can stay a night or two. Even if you don't turn the day's event into multiple days' events… the fact remains that no one is confined to sitting in chairs at a beach wedding. Plus, there's usually more space on a beach, so you can invite more people if you want.
#5 – You can have both the wedding and the reception right there on the beach.
Not being restricted to a building definitely can make a difference when it comes letting your hair down and having a good time! Overall, a beach theme wedding means less stress.
#6 – The wedding favors are really fun!
Who doesn't want a little beachy memento for their home or office? But don't think "beach" has to be the only decorating theme for your beach wedding!
#7 – Your wedding pictures will be gorgeous… and FuN!
Your wedding photos certainly won't look like everyone else's wedding photos, that's for sure.
Cons Of A Beach Theme Wedding
#1 – The weather may not cooperate.
Unless your beach theme wedding is primarily indoors (and simply decorated in a beachy way), then you're going to want nice weather to coincide with the uplifting, fun, outdoor, beach environment. If it rains or gets really windy, for example, it would change the mood of your beach wedding quite a bit. (That is precisely why it's always a good idea to have an alternate indoor location — especially with a beach theme wedding!)
#2 – You'll need to plan your wedding from a distance.
Your best bet is to find a person who specializes in beach weddings based in the area where you'll be married. This isn't as hard as it sounds though. Most destination wedding planners that you find online have full-time assistants in various countries that will:
Plan all of the location-specific details ahead of time for you
Take care of all the licenses and fees based on local laws in advance
Make sure that your beach wedding goes off without a hitch on your special day
#3 – Your flowers may wilt.
That is, unless you pick hardy flowers for your beach wedding bouquet. Consider hardy tropical flowers or even non-floral options.
#4 – Some extra thought must be given to the wedding photographer you'll be using — someone you know vs a local photographer.
While a local photographer chosen by your (local) wedding planner might be cheaper (or even included in your package price), you won't be able to communicate with them ahead of time about the type of pictures you want. It will pretty much be up to their own discretion, not yours.
#5 – Some beaches require a permit or have other rules.
That's right, in order to use the beach as the backdrop for your wedding ceremony, you may need to request permission ahead of time. Sometimes you have to get the permit up to a year in advance. Fortunately, the permits are relatively inexpensive. Some beach rules may simply forbid you from lighting candles or having a bonfire.
#6 – Strangers are likely to be on the same beach when your wedding is taking place.
This is true for public beaches as well as private beaches (yes, even those that require a permit). People aren't the only strangers who could invade your wedding party; there are also seagulls! They are notorious beggars. So if your food is out in the open, they may snatch it.
#7 – The tides could dictate the timing of things at your beach wedding.
Your best course of action is to make sure you know — for the day of your wedding — when the tide will be coming in (so that you and your guests don't get become bombarded by incoming tides) and when the tide will be going out (so that you will have the most water and waves at the shoreline for your ceremony and photos).
I enjoy helping women find clever ways to plan their weddings on a budget. My goal is to help you stay creative and save money at the same time! When I'm not writing, I enjoy spending time with my husband, reading, and creating 3D artwork & Native American beadwork.