This post may contain affiliate links. If you buy thru these links, we may earn a commission at no additional cost to you.
---
This is Part 5 of 5 in a series: "How To Plan Your Dream Wedding"
Dream Weddings Require An Open Mind And A Good Sense Of Humor
First and foremost, don't sweat the small stuff.
Planning a dream wedding can definitely be challenging, but if you take the attitude of "whatever will be will be", then you'll be happier in the end.
If you're stiff & uptight, and worrying about every last detail, then neither you nor your guests will feel at ease at your wedding. And what kind of a dream wedding would that be?
So, if you're a Type-A personality (I used to be), then a dream wedding with so many "unknowns" might not be what you're looking for.
But if you're willing to roll with the punches — and have fun with it, then a dream wedding can be exactly that: The wedding of your dreams!
Just remember, when things start to spin out of control on the morning of your wedding: Things are rarely as serious as they seem. And no matter what happens… life goes on.
We paid one of the locals (a Bahamian photographer) to shoot three rolls of film for us. The only thing I asked: "Take NO staged, formal shots." What appeared in the majority of our prints? Staged, formal shots! But now it's funny to us to look at those pictures, and we remember how carefree everything was on that day — everything except these photos.

Thankfully, all the guests had their own cameras. Still, we also handed out the disposables too, so we ended up with plenty of candid photographs of our wedding!
Nothing beats an open mind and a good sense of humor on the biggest day of your life.
My wedding day was probably the day I learned to just roll with the punches and "go with it."
Some examples:
You want me to sign here that I am legally a "spinster"?… Say what?! Okay, sure, whatever you wanna call it. No, I haven't been married before.
Oh, you're out of white daisies?… Sure, yellow are fine.
The photographer's running late?… Sure, we can wait. (…Despite the fact that the sun is sinking lower and lower and this is to be a sunset wedding!)
You want me to pose for this photo while holding my wedding certificate under my face — like a WANTED poster?… Sure, whatever you want. This will be funny!
In the end, this was absolutely the most carefree, laid back, FUN day of my life!
And what good is it if you can't have a little fun at your own wedding?…
 
Listen to Bud Light's Real Men of Genius "Mr. Wedding Band Guitar Player":
https://weddings.thefuntimesguide.com/files/Bud_Light_Real_Men_of_Genius_Mr_Wedding_Band_Guitar_Player.mp3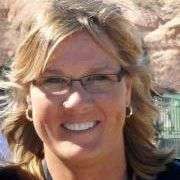 I planned my own Destination Wedding and everything went off without a hitch — we got married barefoot on the beach in the Bahamas! I like to help brides-to-be find unique ways to do things that will ultimately save them time & money on their wedding. I write about "outside the box" wedding ideas that most people wouldn't think of! When I'm not exploring the latest wedding trends, you can find me at the corner of Good News & Fun Times as publisher of The Fun Times Guide (32 fun & helpful websites).