This post may contain affiliate links. If you buy thru these links, we may earn a commission at no additional cost to you.
---
Every woman dreams of going on the exciting search for the perfect wedding dress that matches her body type, personality, and incorporates itself naturally with the rest of the wedding theme.
Going on the incredible journey of finding that perfect wedding dress is an exciting and sometimes confusing experience.
You may be lucky enough to find your dress in the first place you go, for others it may take months to find the right one.
In the end, the perfect wedding dress will ultimately find you.
The time for me to go find my dream dress hasn't come yet (hopefully soon, fingers crossed!) but I have definitely learned a lot from my experiences dress shopping with friends and family.
I hope you enjoy these tips!
Who to Take
You should never shop alone while you are going through this difficult process; take a few good friends or close family members with you to offer sound advice.
Be careful not to take too many people. One of the biggest mistakes brides make when dress shopping is bringing a large entourage. You don't want to have your own voice drowned out by the undoubtedly differing opinions of everyone else.
As a bridesmaid I have been dress shopping with a couple friends, one who brought her family and all of her bridesmaids, and one who just brought me and her mom. I can completely attest to the fact that the latter was the better situation.
Also, allow professionals to give you their opinion as well, and remember to be open-minded for the best results.
Where to Go
Next, you need to decide where to begin your search. This depends greatly on your budget.
If you can't afford high end couture dresses, don't go to a couture salon and torture yourself by falling in love with a wedding dress that is out of your price range.
My sister made this very mistake. She ended up feeling less than satisfied with the dress she eventually chose because she couldn't get the more expensive dress out of her head. My parents were the ones making the purchase, and as much as they wanted to help her they couldn't afford to and felt awful about it. It was a terrible situation for everyone involved!
Another factor is the amount of time you have. If you're planning a quick wedding, you may not have time to order a dress and wait for it to come in and go through the alteration process.
In this case, you are going to have to find a store that has options you can purchase off the rack and take home with you that very day.
Color and Style
When you go into a bridal shop to choose your dress, there are many things that you should consider before even trying on your very first one.
Decide whether you are going to go for a more modern and sophisticated look, traditional, or a unique look.
If you're having a beach destination wedding, you might want a light, flowing gown or a shorter dress that is easy to walk in.
If you're having a traditional church wedding you may want a more modest style or a big ball gown.
Another important factor to consider is the color you want your dress to be. Should you consider a color that matches your skin tone? Matches your personality? Perhaps one that is a traditional white, but has different colored accents on it?
Personally, I would want to be a little more unconventional and stand out from the sea of white dresses. I see myself wearing a blush gown.
The possibilities and considerations are limitless when it comes to choosing your wedding gown. Be sure to explore all of your options.
Figure Flattery
Be honest about your figure. You may love mermaid style gowns or a certain dress on the hanger, but it may not be the most flattering style for your body.
If you go shopping for your wedding dress with no clue what you are looking for, here are some pointers to help you move along in your search.
Consider your body type. Do you have a thin figure, shapely figure, or a somewhat of an abnormal figure? You should not be offended by having to ask yourself these questions. Body type is imperative for finding the dress that will be the best beneficial for you.
If you're a pear, consider A-line and ball gown styles.
If you're an apple, find a style that brings the attention downward.
Sites like David's Bridal allow you to search for dresses by silhouette, so it might be a good idea to familiarize with the different styles before going to try on dresses for the first time. After figuring out your body type, you can start your search with dresses that were designed to accommodate your needs.
I've had friends who chose dresses that were not my personal style but when they found "the one" for them, they just glowed. At the end of the day, the most important thing is to find a dress that makes you feel beautiful and you will unquestionably look beautiful!
Priti Patel is a writer with a love for everything fashion and weddings. Having been a bridesmaid in several weddings, she hopes to use her experiences to one day plan her own wedding.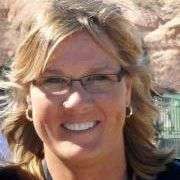 I planned my own Destination Wedding and everything went off without a hitch — we got married barefoot on the beach in the Bahamas! I like to help brides-to-be find unique ways to do things that will ultimately save them time & money on their wedding. I write about "outside the box" wedding ideas that most people wouldn't think of! When I'm not exploring the latest wedding trends, you can find me at the corner of Good News & Fun Times as publisher of The Fun Times Guide (32 fun & helpful websites).