This post may contain affiliate links. If you buy thru these links, we may earn a commission at no additional cost to you.
---
They say, generally speaking, that you shouldn't spend less than $50 on a gift for the bride and groom.
That is, unless you don't know them well.
Or, if you simply cannot afford it.
While some people use the price-per-plate as a guide for how much they should spend on a couple's wedding gift, you should really spend what you think is appropriate for your unique relationship to the couple instead.
Some examples:
Co-worker and/or a distant family friend or relative: $50 to $75
Relative or friend: $75 to $100
Close relative or close friend: $100 to $150+
Here is some excellent gift-giving advice from other brides, grooms, and wedding guests, along with trends in wedding gift giving, and tips from a money-saving expert.
With that in mind, following are some one-of-a-kind wedding gift ideas for the bride and groom…
Not only is this a wedding guest book for people to sign, but it's also where guests will leave messages for the new couple.
(Just make sure they open this gift early and have it at the wedding ceremony with them!)
After the wedding, the bride and groom will be able to reminisce about who attended their wedding while reading all the personal messages of love, advice, and warm wishes for their future together.
It comes with 150 note cards for wedding guests to write their names and messages and 132 envelopes to hold each of the notes for the couple to later.
There's a place on the front for a picture of the bride and groom and a silver plate under the picture that can be engraved.
Inside each of these unscented candles are a dozen tiny keepsakes (charms) that are revealed as the candles burn.
Each charm is a reminder of the power of positive thought.
The candles burn for 30 hours each!
On the front of every candle is a unique plaque which features a wish for the couple to focus on that month — such as joy, love, fun and adventure.
This set also comes with a clear glass tray to burn the candles on.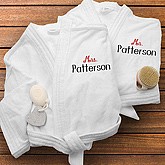 The bride and groom will enjoy resting and relaxing in their luxurious robes.
These white 100% Egyptian cotton robes are embroidered with the classic Mr. & Mrs. — or a handful of other monograms.
They're the softest, most lightweight robes available!
(I'm feeling relaxed just looking at them.)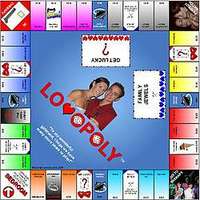 You can personalize the playing pieces with photos of the bride and groom's friends, their wedding party, close relatives… whomever you like!
Then, customize the game board itself with places that the couple has been (or would like to go) together.
This one is tons of fun, and gets included on wedding and valentine gift lists a lot! (As seen in this ABC news video.)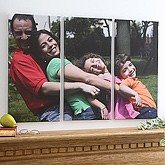 Who knew art could be so fun?
Find the perfect picture of the new couple and turn it into this 3 piece split panel canvas.
It is produced on actual artist canvas and uses rich archival inks to intensify the details and beauty of the photo.
This piece of art will impress anyone who sees it.
This is a classy way to jazz up the couple's outdoor space around the home!
Hand-crafted of solid concrete, this one-of-a-kind gift will last a lifetime!
The bench itself is inscribed with this sentiment: "The romance of a thousand lifetimes begins with a single kiss."
You can add a personalized message to this stone garden bench.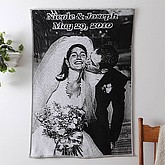 Give a gift that the bride and groom can snuggle up with.
Choose up to 10 photos to include on one side of the blanket.
Each custom made blanket is 100% cotton and made in the USA.
The finished size is 60×80 and can safely be washed in the washing machine and dried in the dryer.
A digital picture frame is something the bride and groom will be excited to fill up with photos as soon as they return home from their honeymoon.
It's easy to upload photos from an iPhone or Android photo — or you can email photos to the digital photo frame one-by-one. (Whatever you put in the subject line becomes the photo caption.)
Inform wedding guests of this frame's unique email address, and let them upload their own photos to the couple's digital frame!
We spend one-third of our lives in bed!
Luxury bedding makes a classy wedding gift — because it's something that most people don't buy for themselves.
And while a "regular" sleep pillow only lasts 1 to 2 years on average, a down pillow can last 10 to 15 years if it gets fluffed and aired out regularly.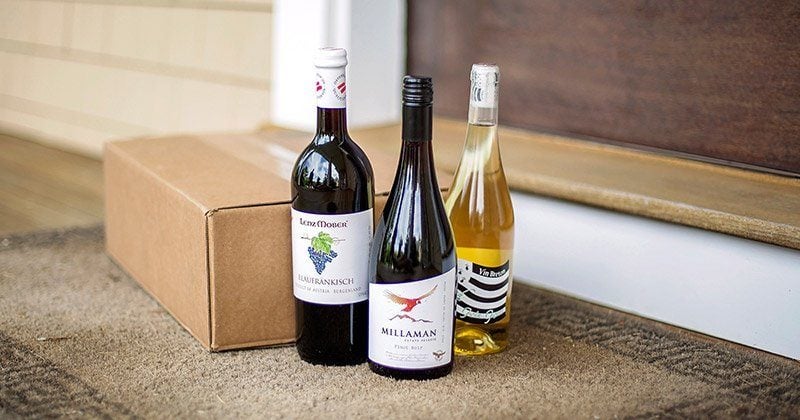 The couple will receive 2 different wine varieties each month.
Choose from all red, all white, or one of each.
They will be delivered at the times you prefer — anywhere from 1 month to 12 months or any number in between.
And if you're ordering in advance, you can choose any date in the future for the couple's Wine of the Month club membership to begin.
Other Unique Gift Ideas For The Wedding Couple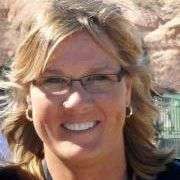 I planned my own Destination Wedding and everything went off without a hitch — we got married barefoot on the beach in the Bahamas! I like to help brides-to-be find unique ways to do things that will ultimately save them time & money on their wedding. I write about "outside the box" wedding ideas that most people wouldn't think of! When I'm not exploring the latest wedding trends, you can find me at the corner of Good News & Fun Times as publisher of The Fun Times Guide (32 fun & helpful websites).